Create Highly Accurate Medical Device Digital Twins
Learn how to speed the process with ICS' proven rapid development techniques
Extended Reality (XR) techniques are having a moment in the healthcare world. From robotic surgery to wound management, augmented reality (AR) and virtual reality (VR) technologies are empowering physicians and fostering better patient outcomes. In the ever-expanding medical device industry, manufacturers face the constant challenge of how to provide proper training for clinicians on their new devices. Similarly, creating training systems for existing devices may also pose difficulties. How do clinicians learn to use these technologies without endangering patients? The solution: medical device digital twins.

By creating a virtual model that accurately reflects their medical device, manufacturers can develop training systems that can be used without access to the actual device hardware. Added benefit: digital twins can be deployed at a fraction of the cost of more traditional training techniques.

In this webinar, we will walk you through ICS' well-defined process for quickly creating medical device digital twins, including exploring the benefits of a layered architecture approach and examining appropriate use cases for our rapid development technique.
To download, please submit the form: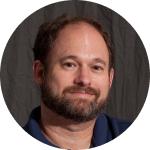 Jeff LeBlanc
Jeff is the Director of Solutions Engineering at Integrated Computer Solutions, Inc. (ICS), which creates groundbreaking products by combining UX design and software development expertise with full product realization services for embedded, desktop and companion mobile applications. He has a strong track record for developing custom software solutions with a strong focus on applying human factors principles to user-interface design. His expertise extends to VR/AR, for instance creating battlefield-simulation software and medical device digital twins for surgical training. He earned both his BS and MS in Computer Science from Worcester Polytechnic Institute (WPI) where he is also an adjunct faculty member.